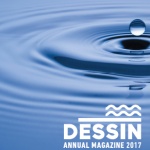 The next annual DESSIN magazine is now available for download.
Focus of the issue mainly lies on a review of the last project years and an outlook of the upcoming and final project year. There also is an interview with DESSIN scientist Dr.Koen Zuurbier (KWR), who graduated at the TU Delft on findings from the Westland demo site. Furthermore, there is a piece about the DESSIN Ecosystem Services Evaluation Framework, a piece about the demo site in Westland and an article about the Green Business Award for DESSIN and EYDAP. Enjoy the read!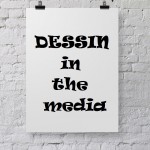 A special issue on managed aquifer recharge (MAR) of MDPI Water has been released. It is aiming at hydrogeochemical and water quality management aspects, such as the benefits of self-purification during aquifer recharge and storage, including bank filtration, and problems due to undesired water-aquifer interactions and clogging of infiltration and injection systems. From both, the Barcelona and the Westland demosite, a paper was submitted and accepted for publication.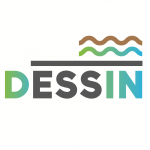 At the Emscher site, two innovative technologies have been – or are still being – pilot-tested. Both have the aim to improve water quality in rivers and streams which will have positive effects on ecosystem service provision. This improvment is being achieved via a reduction of overflowing combined sewage water into streams during heavy rain events or – in case overflows occur – via a reduction of the particle load entering the streams.
The two technologies are 1) a cross-flow lamella settler to improve combined sewage water treatment inside storage facilities in the sewer network, developed by DESSIN-partner UFT and 2) the ADESBA real-time-control system to enhance storage of combined sewage inside the sewer network, developed by DESSIN-partner SEGNO. Click to read more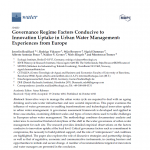 DESSIN scientists from the Ecologic Institute and Emschergenossenschaft in Germany, KWR Watercycle Research Institute in Holland, SINTEF in Norway, CETAQUA in Spain and DHI (Danish Hydraulic Institute) in Denmark have published an Open Access Paper about European experiences in Governance Regime Factors Conducive to Innovation Uptake in Urban Water Management.
Innovative ways to manage the urban water cycle are required to deal with an ageing drinking and waste water infrastructure and new societal imperatives. This paper examines the influence of water governance in enabling transformations and technological innovation uptake in urban water management. A governance assessment framework is developed and applied in three case-studies, examining different scales and types of innovations used to tackle challenges in European urban water management. Click to read more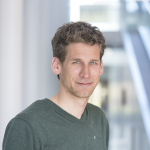 This Open Access paper has been written by Koen Zuurbier and Pieter Jan Stuyfzand and is about the experiences of the aquifer storage and recovery system at the Demosite Westland. It shows how the system was struggling with saltwater intrusion, what the driving mechanisms for this were, and how this could be counteracted. This counteraction was brought into practice in the DESSIN project and successfully lifted the production of freshwater at the site. It is shown that there are good prospects for application of this sustainable technique in the area. Click to read more
DESSIN has just issued a video about one of its solutions to tackle water scarcity. At Athens, DESSIN demonstrates sewer mining technologies as a novel concept for distributed re-use within the urban environment, exploiting state-of-the-art information and communication technology solutions for distributed monitoring and management of multiple sites combined with small packaged plants.
The demo site is also being used as a test bed for testing reused water characteristics on the soil, irrigating onsite peri-urban green. The demo site examines a major component of ecosystem services (ESS) specifically relevant for arid regions: the mitigation of heat island effects due to irrigation of urban green.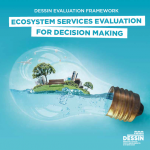 The DESSIN Ecosystem Services (ESS) Framework helps decision-makers to make the best choice by evaluating the effects that innovative solutions have on freshwater ecosystems and their services. Now the brochure "Ecosystem Services Evaluation for Decision Making" (download here for free) is available.
DESSIN has developed a structured approach to measure changes in ecosystems services (the benefits humans obtain from ecosystems). With it, the project is bringing the concept of ecosystem services from theory to practice and using it to boost innovation in the water sector. The recently created "DESSIN ESS Evaluation Framework" supports decision-making and promotes the uptake of innovative solutions to water quality and water scarcity challenges in urban areas. It will also facilitate the integration of the ecosystem services concept into EU Water Framework Directive implementation.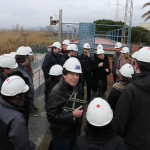 At the end of January, around 30 DESSIN partners met up for a Project Steering Board meeting in Barecelona, Spain, hosted by project partner Cetaqua.
The conference started with a SME peer exchange workshop to reflect jointly on the expectations and results of DESSIN at the start of its final year from an SME perspective. Discussed were the SMEs' understanding of ESS relevance and how it evolved during the project. Building on this discussion, there was a peer exchange on using ESS valuation and other DESSIN results effectively in the SME/business context. This included an analysis of needs per SME and strategy sketch of putting DESSIN results to use post-project. Lastly, relevant EU Programmes for SMEs and other opportunities to collaborate were discussed.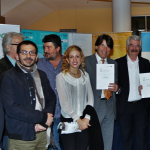 The Athens Water Supply and Sewerage Company (EYDAP) won a prestigious award for DESSIN increasing the value of the pilot as a high profile showcase. EYDAP participated in the European Business Awards for the Environment (EBAE) and excelled at the National level. The Panhellenic Association of Environmental Protection Enterprises (PASEPPE) together with the EU Representation in Greece awarded EYDAP two prizes for the Athens sewer mining pilot, in two categories: "Products and Services" and "Business and Biodiversity". The first category refers to the successful placing on the market of a new product or service that makes an outstanding contribution to sustainable development, while the second one refers to a successful business model, management scheme, product and service or international cooperation, which makes a significant contribution to halting biodiversity loss and supporting natural ecosystems.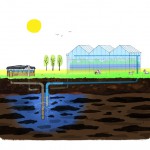 Like in 2015, the Westland demosite for aquifer storage and recovery in combination with reverse osmosis (ASRO) still is a unique site to demonstrate, document, and evaluate this water innovation.
Demonstration
Plenty of scientists, policy makers and water users find their way to the site. For instance, a meeting was organised together with the Rabobank (financing most Dutch horticulturists) at September 16th. During this meeting interested agriculturists from the area visited the site for presentations on the technique, but also on interesting ways to finance this type of sustainable innovations. A delegation from Vietnam was welcomed on October 13th, while on October 24th delegates from the Gulf Cooperation Council visited the site to explore its potential for the Gulf States. Both regions suffer from saline groundwater and a lack of storage opportunities aboveground. These latter visits were arranged together with the Netherlands Enterprise Agency (RvO).