Register for the joint DESSIN-WssTP workshop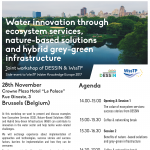 On 28 November 2017 the final DESSIN event will take place in Brussels, Belgium. Together, the WssTP Working Groups on Ecosystem Services and Green Infrastructure and the EU-funded DESSIN project will organise the half-day workshop, back-to-back with the annual Water Knowledge Europe brokerage event of the WssTP on the 29th and 30th November. The workshop will deal with Ecosystem Services (ESS), Nature-Based Solutions (NBS) and Hybrid Grey-Green Infrastructure (HGGI).
The scope of the workshop is to underline how ESS, NBS and HGGI best practices, approach and methodologies can contribute to innovation in the water sector and help tackle water-related challenges, such as water quality and water scarcity. Three dedicated sessions will highlight experiences on implementation, success stories and success factors, as well as barriers to implementation and how they can be overcome. Also discussed will be possible ways forwards for scaling up and market uptake, actions to be taken and implications for future European innovation activities in the field.
The workshop will take place on the afternoon of 28th November, with plenary presentations on project results, and interactive discussion rounds on lessons learnt and possible ways forward to foster broad implementation of ESS, NBS and HGGI solutions.
Water supply and sanitation services suppliers, water boards, water technology providers, policy and decision makers, researchers and innovation enablers are invited to participate.
The participation to the workshop is free, but registration by 24th of November is required.
Download the leaflet to our final even here.
For further information, please contact Andrea Rubini.