D22.4 Evaluation of pre-potablewater for injection using ASR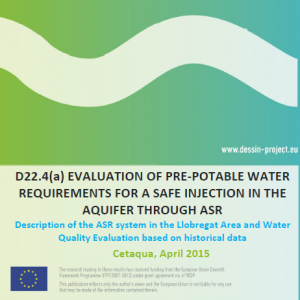 Version

Draft

Download

543

File Size

6,16MB

File Count

1

Create Date

June 16, 2015

Last Updated

November 20, 2017
The Aquifer Storage and Recovery System (ASR) in Llobregat is one of the oldest Managed Aquifer Recharge systems in Europe. Historically, drinking water has been recharged in the alluvial aquifer using injection wells. Despite the suitability of the aquifer and the good results achieved in terms of volume injected, the system has been operated fewer and fewer because the increase of potabilisation costs of the water to be injected. Therefore, in order to recover the sustainability and the economic feasibility of this ASR system, DESSIN project aims at demonstrating the injection of pre-potable water.
This report describes the Llobregat ASR system and presents the evaluation of the pre-potable water requirements to fulfil a safe injection in terms of aquifer quality and well operation. First results presented are the exhaustive literature review of recommendations and compilation of international experiences of ASR systems and their main operative parameters. Historical data of the sand filtered water produced has been plotted and analysed compared to quality standards and recommendations.
The result of this evaluation has been useful to identify the strengths and weaknesses of sand filtered water being injected in the aquifer. Moreover, the outcome of this partial report of D22.4 corresponds to the achievement of Milestone M16 "Selection of the most suitable pre-potable water and expected impacts".
| File | Action |
| --- | --- |
| DESSIN-D22-4-revised.pdf | Download |