D22.2 ICT platform for distributed sewer mining (technology)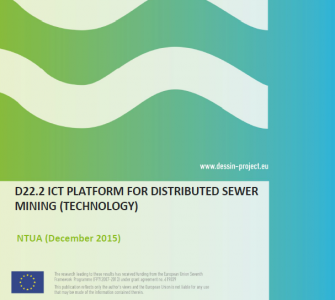 Deliverable D22.2 is part of Task 22.1.2 and T22.1.3 of the DESSIN Project, which is related to the Athens Demonstration: "Sewer Mining for Urban Reuse enabled by Advanced Monitoring Infrastructure". More specifically D22.2 summarizes the results of T22.1.2 "Development of the sewer-mining software (s/w) and hardware (h/w) platform" and T22.1.3 "Development of the Communication Solutions".
The actual deliverable D22.2 is a prototype that can not be electronically submitted to the EC services. Hence, it is accompanied by this report which focuses on the development of the sewer mining software and hardware platform and the development of the communication solutions, for collecting, processing and visualizing data of the field sensors installed at the packaged plant in KEREFYT, Sanitary Engineering Research and Development Center of EYDAP.
| File | Action |
| --- | --- |
| D22.2 ICT platform for distributed sewer mining (technology).pdf | Download |