D42.3 Business Environment Report Water Quality (internal)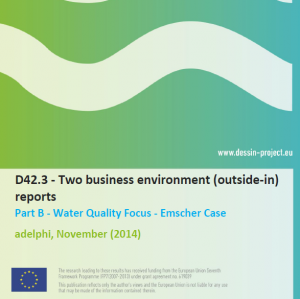 Version

Final

Download

280

File Size

3,35 MB

File Count

1

Create Date

March 13, 2015

Last Updated

June 17, 2015
Only for internal use - confidential document.
This report exemplarily analyses the wider market for the DESSIN solution package on water quality based
on the Emscher case in Germany. It has been compiled as part of the initial work of the DESSIN work area
42, the route to market. The report takes an "outside-in" approach by looking at the bigger market picture
to determine market risks. The document is structured into five key steps: (1) A product description
including the respective solution package and its anticipated impacts on ESS, (2) an initial screening for
critical market success factors of the solution, (3) the detailed analysis including the relevant governance
framework, an analysis of the market conditions and financial opportunities, (4) barriers and challenges
derived from the analysis, and (5) recommendations for SMEs and policy recommendations. Checklists are
provided in the Annex that can serve other SMEs to conduct a market screening along the steps applied in
this report. In order to appeal to a variety of readers, the report provides general information on the above
topics as well as detailed information from the Emscher case.
| File | Action |
| --- | --- |
| Business Environment Report_Water Quality.pdf | Download |