DESSIN final conference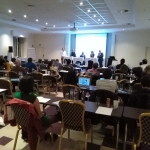 At the end of November the DESSIN project members met in Brussels, Belgium for their final conference. The event was embedded in a joint workshop with the WssTP working groups on Ecosystem Services and Green Infrastructure.
The scope of the workshop was to underline how Ecosystem Services (ESS), Nature-Based Solutions (NBS) and Hybrid Grey-Green Infrastructure (HGGI) best practices, approach and methodologies can contribute to innovation in the water sector and help tackle water-related challenges, such as water quality and water scarcity. Three dedicated sessions highlighted experiences on implementation, success stories and success factors, as well as barriers to implementation and how they can be overcome. Also discussed were possible ways forwards for scaling up and market uptake, actions to be taken and implications for future European innovation activities in the field.
The workshop was attended by water supply and sanitation services suppliers, water boards, water technology providers, policy and decision makers, researchers and innovation enablers. It was a great opportunity to present the main results of the DESSIN project to an interested audience.