"How to invest in the water sector?" ESS Brochure available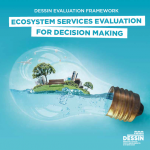 The DESSIN Ecosystem Services (ESS) Framework helps decision-makers to make the best choice by evaluating the effects that innovative solutions have on freshwater ecosystems and their services. Now the brochure "Ecosystem Services Evaluation for Decision Making" (download here for free) is available.
DESSIN has developed a structured approach to measure changes in ecosystems services (the benefits humans obtain from ecosystems). With it, the project is bringing the concept of ecosystem services from theory to practice and using it to boost innovation in the water sector. The recently created "DESSIN ESS Evaluation Framework" supports decision-making and promotes the uptake of innovative solutions to water quality and water scarcity challenges in urban areas. It will also facilitate the integration of the ecosystem services concept into EU Water Framework Directive implementation.
The framework helps its users to evaluate the effects that innovative solutions (whether technical or management measures) have on freshwater ecosystems and their services. It is targeted at decision-makers and technology developers as a practical way to integrate the ecosystem services concept into their day-to-day decision-making process.
One of the key features of the DESSIN ESS Evaluation Framework is its ability to assist in linking the innovative solution to the specific ecosystem services it may influence. The framework acts by guiding the user to define specific capabilities of the solution (e.g. reduction of contaminants dissolved in the water) and to relate these to specific ecosystem services. The changes in those ecosystem services influenced by the solution are then evaluated.
The framework has been tested through application in case study sites in Germany, Denmark and Spain, and the feedback resulting from these initial applications has been used to fine-tune its individual elements.