Faces behind the project – Gerardo David Anzaldúa Garza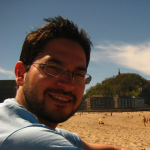 My name is Gerardo and I am a Fellow at Ecologic Institute in Berlin. I am a mechanical engineer and business administrator by training, and a policy analyst and consultant by doing. My research focuses on the economic aspects of water policy and the practical application of the ecosystem services approach. I also do consultancy work on business development for organizations creating technological innovations to enable the efficient and sustainable use of water resources.
Currently I lead activities in three European research projects involving innovation in the water sector (DESSIN, SWITCH-ON and BRIGAID) and I am member of the European Topic Centre on Inland Coastal and Marine waters (ETC-ICM), which supports the European Environment Agency (EEA) in its research and assessment of European waters.
How did you come to work for DESSIN and what do you do within the project?
Together with my colleague Manuel Lago I have been deeply involved in the conceptual development of Work Area 1, which is one of the key pillars of DESSIN since the proposal phase.  My main tasks are to coordinate the group of multidisciplinary experts developing the DESSIN Ecosystem Services Evaluation Framework and, together with other WA1 colleagues, facilitate its application on the demo sites.
What do you like most about working for a large European water research project like DESSIN?
What I enjoy the most about DESSIN are the balances. The balance between the scientific research and the demonstration activities, the balance between the different schools of thought working together here, the balance between the "younger crowd" and the "more seasoned" partners.
I have worked on a fair number of such projects during the past 6 years, and for me this is what makes DESSIN different. It is great to work with people that dominate their field of expertise but still are open to different conventions and different ways of doing things.
If you had one wish regarding the current water situation, what would it be?
I think every single one of us has something to contribute when it comes to dealing with the challenges we are facing, whether it's too much or too little water. What I would wish for is for a more widespread understanding of the role that water plays as a pillar of the environment, and of how we affect that role as individuals, as consumers and as members of society.
How does the water sector looks like in 50 years, if you could shape it?
Water is fascinating simply because it is a node where all other sectors converge. I believe the efforts being made in projects like DESSIN and many others have the potential to move the sector towards leaner and more efficient processes (when it comes to operation) but also more transparent and inclusive management approaches. I hope that the weight placed on practical implementation of new science succeeds in driving these necessary changes.
Did your new knowledge about ESS change your perception of water and nature and if yes, how so?
I think it's the other way around, one's perception of nature dictates one's position towards a concept such as ESS. And this is what has in many cases raised controversy around the idea. I see the notion of ecosystem services as a "common language" through which people with different (and at times contradicting) interests might find it easier to communicate. This language is still very much under construction, and I hope our work on DESSIN contributes significantly to that. I think the concept has great potential to help us highlight how much we depend on nature and thus make it even more evident why we need to protect it. But as many other tools, if used irresponsibly, the idea of conserving nature simply because it provides us with the stuff we need can lead us in the wrong direction. There is clearly more than that and we need to be conscious that the abstractions we can make about such a complex system are limited at best. On the other hand, the only way to get better at this is to continue exploring and testing how this can be applied appropriately, and this is what keeps us busy in DESSIN.
Do you save water and if yes, how?
I live in an urban environment, and while I don't own a garden or a car that I need to wash every week, I am aware that there are many other ways my everyday activities affect the water environment. My apartment is fitted with a water-efficient showerhead, dual flush toilets and a high efficiency dishwasher.
My weak point has always been the time I spend under the shower, and so I'm trying to find different ways to reduce that. Someone recently suggested that the time I spend showering should be no longer than the duration of my favorite song. I guess the outcome of following that advice would be optimal if I start listening to punk while I shower. I'm on it.