Westland (Netherlands)
The demo site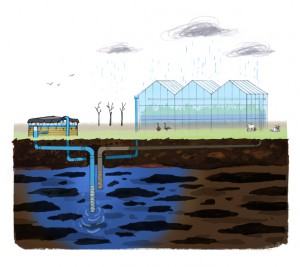 Sea level rise, soil subsidence, and prolonged periods of droughts increasingly put a strain on the availability of freshwater in coastal areas. The Waterbuffer Showcase in the Greenport Westland demonstrates how innovative, small-scale aquifer storage and recovery (ASR) in combination with desalination can be used to safeguard a sustainable fresh water supply in coastal areas. The basic idea of ASR is to infiltrate freshwater surpluses (e.g. rainwater, surface water) during wet seasons via wells in order to create an underground buffer. In in times of demand, the water is recovered via the same wells. As such, ASR provides a better match over time of water supply and demand, and counteracts saltwater intrusion and subsidence. At the Westland demosite, the potential to further improve the recovery of rainwater surpluses upon storage in brackish aquifers is demonstrated within the EU DESSIN project.
What is being tested?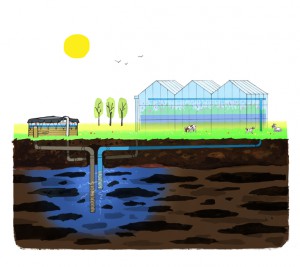 The enhanced freshwater recovery is accomplished by combining ASR with desalinization with an integrated innovative well design. This way, there is flexibility to intercept deeper upconing brackish water (using the Freshkeeper) and simultaneously feeding a reverse osmosis (RO) treatment system, while recovering rainwater at shallower wells. These underground waterbuffers have a strong potential to provide an ecosystem service (ESS) in the region by using surplus natural rainwater and aquifers. The main advantages of ASR in combination with RO (together: ASRO) as presented at this demosite are:
a balance in freshwater injection and abstraction, which avoids seawater intrusion;
limited space requirements aboveground;
less pluvial floodings by overflowing aboveground reservoir;
lower energy consumption as compared to conventional brackish water reverse osmosis.
The showcase (video here) can be visited on working days on request. Water users, policy makers, and other interested parties are invited to visit this Waterbuffer Showcase. Please contact koen.zuurbier@kwrwater.nl.
Partners / funding
Prominent
Bruine de Bruin BV
B-E de Lier
Rabobank Innovation Fund
Waterbuffer Foundation
Valorisation program Deltatechnology
LTO Glaskracht
EU-project SUBSOL (grant agreement no. 642228)
EU-project DESSIN (grant agreement no. 619039)